The

IoT4DigitalTwin

innovation project is part of the

 

Programa Europeo

H2020

and has met expectations by combining the most advanced enabling technologies in Industry 4.0.
Geprom and Gefasoft are virtualizing Celsa's production processes with the creation of a digital twin to make decisions

in real time

and avoid errors

beforethey occur

.
The IoT4DigitalTwin project is part of the European IoT4Industry initiative within the Horizon 2020 programme. Geprom Connecting Industries and Gefasoft GmbH have formed a consortium with the aim of implementing a digital twin inCelsa(a private Spanish multinational and leader in the metallurgical sector) and continuing to advance in the field of Industry 4.0 with more flexible, personalised and efficient processes. In order to continuously promote the modernisation of plants, the European Union proposes, within its Horizon 2020 programme, the IoT4Industry call for proposals, which has as its main objective to increase the productivity, profitability and innovation capacities of SMEs, accelerating their access to Industry 4.0 and digital transformation. It also seeks to improve market access for new products and services provided by technological SMEs, strengthening their innovation and growth. During the 13 months of the project, the companies of the consortium have collaborated developing numerous pilot tests in Celsa's processes, generating a link between the real factory and a virtual platform in which to experience the capabilities of technologies based on the Internet of Things, Artificial Intelligence, Advanced Analytics and Big Data. The digital twin requires consolidated and reliable data from the production environment as the basis for accurate simulation. Connectivity, data capture, monitoring and control of production in real time are central elements in ensuring its success. All relevant data for the digital twin, such as machine status, order information, asset positioning and process values, are provided in real time via the Legato Sapient MES system. The current data is collected in real time via a gateway and displayed via the Legato Sapient web front-end. All values are stored in a database and are available as historical resources for a wide variety of analyses and reports. Additional value aggregation and the provision of project-specific key performance indicators are carried out on the basis of the raw data collected. These defined KPIs , are a fundamental core for process evaluation, both for the current situation and for simulation within the DigitalTwin. Michael Stöger, Partner Manager of Gefasoft GmbH, says: "Thanks to the close cooperation between the members of the consortium we have been able to validate a disruptive technology in the complex field of the Smart Factory. This is an important step as we have been able to integrate a digital twin platform into our MES system, which will increase the functionalities and competitive advantages of our product".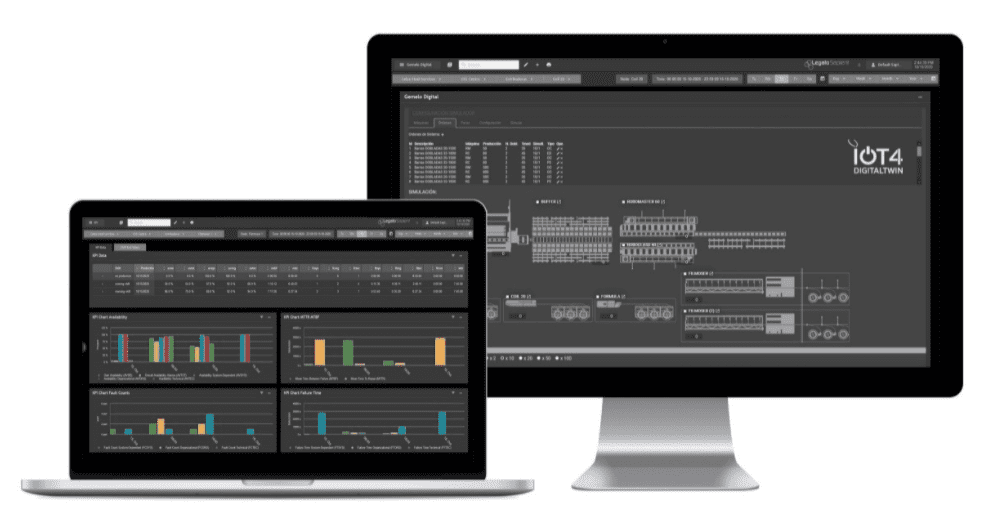 The result of the project is a flexible and scalable digital twin model, which enables new production scenarios to be validated without altering the existing manufacturing process and more secure decisions to be made based on reliable, real-time data, thus significantly improving the success of new investments. For his part, Marc Álvarez, head of industry 4.0 projects at Geprom, pointed out that: "One of the most complex challenges that the project has achieved is to provide small and medium-sized companies with a digital twin platform capable of simulating any production process regardless of their size and activity. This is a differential factor since it is a platform that can be quickly replicated in other production centres and other sectors, facilitating the extension of its functionalities based on the needs of the process in a quick and simple manner, with a rapid return on investment. With the virtual factory, the multinational Celsa goes even further into Industry 4.0 and will be able to predict production processes by avoiding production stoppages, with a high capacity to test modifications without introducing changes to the plant, increasing the efficiency and productivity of operations and optimising logistics and production parameters. "IoT4DigitalTwin shows that our commitment to incorporate the most advanced technologies of Industry 4.0 is bearing fruit and is a step forward to boosting our competitiveness and efficiency" says Anna Casals, Head of Innovation at CELSA Group™. Gefasoft GmbHis a major German software company working around the concept of "intelligent production". Its solutions for the industry seek to provide innovation in a continuous growth with the consequent reduction of costs, having already been implemented internationally in industries such as automotive, pharmaceutical, food or energy. Geprom Connecting Industriesis an innovative and dynamic engineering company dedicated to the development and integration of high added value technological solutions in the field of Industry 4.0 and industrial automation, focused on the areas of production, maintenance, logistics and quality. Geprom has developed projects in top-10 clients in the automotive sector and other important industries such as food, beverages, pharmaceuticals and chemicals, among others. CELSA Groupis the leading private industrial group in Spain, with nearly 33,000 direct and indirect employees, operating in 11 countries and with six large business groups with steel mills, rolling mills, processing plants, distribution, service and recycling companies. Its global turnover is more than 4,200 million euros, operating mainly in the construction, naval, energy and automotive sectors. From the beginning, it has made a clear commitment to innovation in its products and manufacturing processes, applying 4.0 industry technologies with the aim of improving efficiency and also its commitment to sustainability and the circular economy, with all its products being 100% recyclable at the end of their useful life.
This project has received funding from the European Union's Horizon 2020 research and innovation programme under grant agreement No 777455. More information: https://www.iot4industry.eu/